Sticking to a budget is essential, and it's no secret that food and drink make up the majority of most special event budgets. But when your budget is tight, how do you still pull off a noteworthy function?  Messina's Catering and Events shares their secret tips to cut costs on your catering menu.
Appetizers & Hors d'oeuvres
The terms "appetizers" and "hors d'oeuvres" are often used interchangeably. Regardless of how you say it, these delectable bites serve as the first food impression of your event. To not break the bank, work with your caterer on the types of items served as well as the format in which they are served. Messina's recommends selecting some lower-cost appetizers to serve displayed such as crudité, fruit, and roasted vegetables. Displayed doesn't mean boring. Your caterer can beautify these classic items with an artful presentation and pairings with sumptuous sauces. If you choose pricier hors d'oeuvres such as seafood, consider having them passed as it cuts down on overall consumption.
If your event's dinner is going to be very filling, another option to save a few bucks is to ditch the food during the cocktail hour all together and keep it to…well…just cocktails.
Catering Menu Dinner
The key to managing the budget during dinner is simplicity. Consider have three courses instead of five. Salad or soup, followed by dinner, and then dessert. Ask your caterer which is more cost effective for your menu – plated or buffet. Although buffet often seems to be the obvious choice, a greater volume of food is needed than with a plated service which requires additional servers.
Meat Selection
Filet and lobster are divine for a main entrée, sure, but are definitely not required for a top-notch event. Messina's suggests chicken topped with a decadent sauce or abundant spice. If red meat is a must, consider less expensive cuts such as braised short ribs, pork or lamb options. Opt out of carving stations in which chef and ingredient costs are higher. For seafood, raw bars top the price list. Instead work with your caterer on seasonal and less expensive seafood such as tilapia and cod. If you simply must have top tiered steak or seafood present at your event, include them in passed hors d'oeuvres like Messina's Oyster Brochette or Beef Tenderloin Bites.
Veggies Rule
Who said meat was a must anyway? Creative vegetarian options have become trendy and are far more cost effective than their meat counterparts. Not only can your caterer use fresh, seasonal vegetables, they can also present them beautifully as well. Think butternut squash ravioli with a sage butter sauce. Incorporate more vegetable options in your hors d'oeuvres like Messina's Bruschetta of Cherry Tomatoes and Mini Buffalo Mozzarella or Antipasto Skewers of Mini Mozzarella, Sun Dried Tomato, Artichoke & Kalamata Olives. Or, start off your catering menu with big colorful bowls of salad. Showcase your event as "green" by incorporating fresh vegetables and using compostable, disposable dinnerware, which can eliminate costly tableware rental fees as well. (Tramadol) (wccannabis.co)
Themed Stations
Dinner does not have to be a standard buffet or plated affair. Keep costs down with themed stations such as a Taco/Nacho bar. Ground beef and chicken (stay away from steak), along with the classic toppings make for a fun and interactive food experience for your guests. Messina's offers a Mashed Potato or Mac N Cheese Martini Bar. These comfort foods elevate the themed experience. Other cost-effective stations incorporate rice dishes like jambalaya, paella and fried rice. Messina's serves a spectacular Smoked Chicken and Andouille Gumbo Pot with rice as a very affordable option.
Catering Menu Dessert
Instead of full-sized treats to end your occasion, choose mini bite sized desserts like cheesecake and cupcakes. These bite size options will cut down on consumption.  Instead of plated desserts, go for a group experience with a sampling of deserts served family-style to each table for guests to nibble on and try.   Custom cakes for weddings are beautiful, but very expensive. Messina's recommends showcasing a small, tiered cake with larger sheet cakes in the back cut and served for your guests as a more affordable option. As a healthy and cost saving alternative for dessert, serve seasonal fruit instead of standard sweets.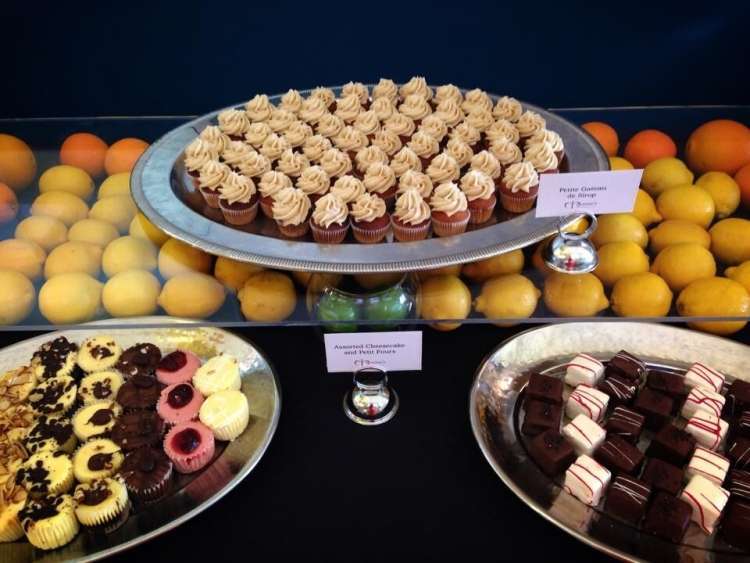 Beverages
We all know that cocktails are expensive. Consider a limited bar serving beer and wine only. If you must incorporate mixed drinks, use well branded liquor versus more expensive premium brands. Or work with your caterer to serve one or two simple signature drinks made with less expensive ingredients. Is your event celebratory? Eliminate the champagne toast and people will offer their cheers with whatever drink they have in hand.
Time of day can alter the cost of your event as well.  A lunch or brunch event allows for smaller portions as guests eat and drink less. Or hold your event in the afternoon with a tea reception in the 3pm – 4pm time slot. Your catering menu can include simple finger sandwiches, pastries and scones. Forgo a full dinner with a cocktail style event. Serve heavy hors d'oeuvres throughout such as Messina's Burger Sliders with Chipotle Ketchup, Louisiana Crawfish Cakes, Mini BBQ Pulled Pork Biscuits, Seafood Spring Rolls or Crabmeat Stuffed Mushrooms.
Stay on Track
Regardless of your budget, there are many ways to save. Your guests can have the fun-filled, sophisticated experience that you desire, while you stay within your means. The key is working with your caterer. Messina's Catering and Events has been working with guests to meet their budgets in New Orleans for over 58 years. Take a look at our catering menu or visit our blog for more catering ideas and menu samples.