Farm to Table events are quite the rage. Everyone wants in on them. Why? Aside from being a new and unique trend, farm to table events are beautiful with a focus on community, connection, and of course food. Messina's Catering and Events shares some helpful tips when planning a catered farm to table event.
Locally Sourced Ingredients
Farm to table events highlight local fare. Work with your caterer on sourcing and featuring ingredients that are local to the area. Whether from area farms, markets, gardens, or the sea, ensure that these items are incorporated in your event.
Farm to table events help to support your local economy through individuals and small businesses. The food is always healthier being grown in the area, and can be more organic or less processed with pesticides and chemicals.
Featured Commodity
Is your area known for dairy, apples, corn or shrimp? Work it into your catering menu. Messina's brings the bayou of New Orleans' to the table with local favorites like – Creole Sausages including Andouille, Smoked Boudin and Alligator! We all know that Wisconsin boasts cheese, so if hosting an event here, make sure some locally sourced cheese is on the menu.
Curated Menu
When planning the menu with your caterer, the focus should be on the food; therefore, simplicity is key. Let the food shine!  Choose options with fresh, bold flavors. Multiple courses during the meal can allow guests to sample. Start with a first course like big, colorful salads, seasonal fruits and vegetables, and/or soups immersed in fresh herbs. Include local artisanal breads with compound butter sourced from a local dairy. For the main course, consider a double meat option. Braised meats right off the grill pack a powerful punch of flavor. Fish served whole, while satisfying, also presents a striking, natural display.
Finish with desserts like pies made from local fruit, cakes featuring local eggs, or brownies made from organic cacao.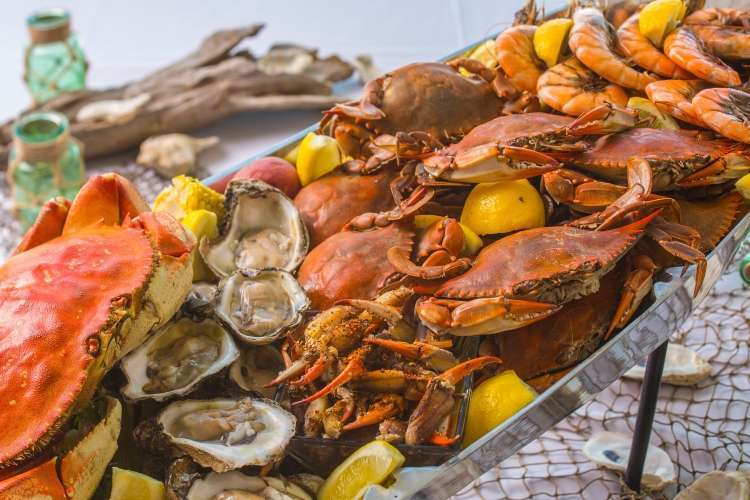 Beverages
Your caterer can also ensure that regional beverages are included on the menu. Many areas have local wineries and microbreweries for featured beer and wine. Serve local fruit juices or lemonade with mineral and sparkling waters. Although many coffee beans are sourced abroad, there may be local coffee roasters nearby to provide your party with the perfect cup of joe.
Informing and Labeling
One important aspect of farm to table events is informing guests about the meal. Don't go through all the work of carefully curating your menu and sourcing your ingredients and then not share the story with guests!  Messina's suggests having your meals and drinks labeled. Note where it's from, and how it's grown. Have the story on signage which incorporates into your décor. Also consider inviting a local farmer or winemaker to speak or showcase at your event. Not only does it promote community, these guests add a special feel to your event and make it extra memorable.
Catering Setting
Regardless of venue, farm to table events can be held anywhere. The key is to present an atmosphere that is natural and inviting. Decide on a group size that you can comfortably accommodate. It's a gathering. Set appetizers in stations to keep guests moving and conversing throughout the space. Have a long, banquet style tables to make your occasion feel warm and intimate. The main entrée may be served family style or individually plated. Set the mood by having a local band provide entertainment.
Décor
Go with simple and rustic décor. Bring the natural environment to your event with greenery, leaves and local flowers. Or, incorporate the season with elements of fruits and vegetables like pumpkins, corn stalks, lemons and apples. Don't forget lighting with candles, lanterns, and white string lights. Recycled jars make for rustic vases and candle holders. Keep tablecloths simple with natural textiles like cotton, burlap or parchment. For tableware, stay away from disposables unless they are compostable, eco-friendly dinnerware.
Sustainable
Farm to table events promote a better relationship with our earth by featuring locally sourced fare. It reduces our carbon footprint, incorporates healthier, local foods, and promotes a respect for nature. Connection is brought about at these unique and trendy events; connection to food, flavors, family, friends and community. Messina's Catering and Events has been working with the New Orleans community for over 58 years. Take a look at our catering menu or visit our blog for more catering ideas and menu samples.