Climate change is a topic that's become more top-of-mind in recent years than at any other time in history.  As we all become more aware of the fragility of our planet, it becomes more important than ever to weave eco-friendly transformational change into our daily lives. This goes for events, especially.  The days of releasing balloons that typically end up in our oceans is considered irresponsible by many and is even illegal in states like Connecticut, Florida, Tennessee, New York, Texas, California, and Virginia.
Today's eco-friendly events aren't just environmentally responsible—they are hip, contemporary and appreciated by your guests.  Messina's Catering and Events has put together this top 10 list of what you should consider when going all out and going green.
1.Have a plan.

Without a plan, an eco-friendly event can end up costing you even more.  Make sure you have a to-do list and a materials list, and stick to them.  Items like bamboo plates and cutlery that are landfill-friendly often needed to be ordered in advance.  Likewise, do your homework on seasonal and locally available foods, flowers and other touches, minimizing the energy consumption needed to ship items from afar.
2.Go digital.
Create an Instagram page for your event and load it up with pictures and add to it as the event draws near.  Text those on your guest list and invite them to follow your page for fun tips and updates.  This can be especially useful if your event has a theme, like Roarin' 20s or a Valentine's Day soiree.  You can also utilize digital invitations such as Evite, which gives you a wide variety of design and functionality options to choose from.  The platform also helps track responses of those who are going, not going or interested.  You can even make tickets available to your event through this service that people can display on their phone when they arrive.
3.Be minimal.
Simple is not only elegant, it's better for the environment.  Minimize the use of garnishes in food presentation and single-serve throw single-use serving items.  Stay away from heavy, messy, fried items and opt for fresh, plant-based options that are pretty on the plate, healthy for the body, and offer a rainbow of color.  Think fresh and raw when it comes to vegetables and fish in crudo creations and tartare stations.  Sustainable food choices are often better tasting and better for you, too.
4.Stay local and organic.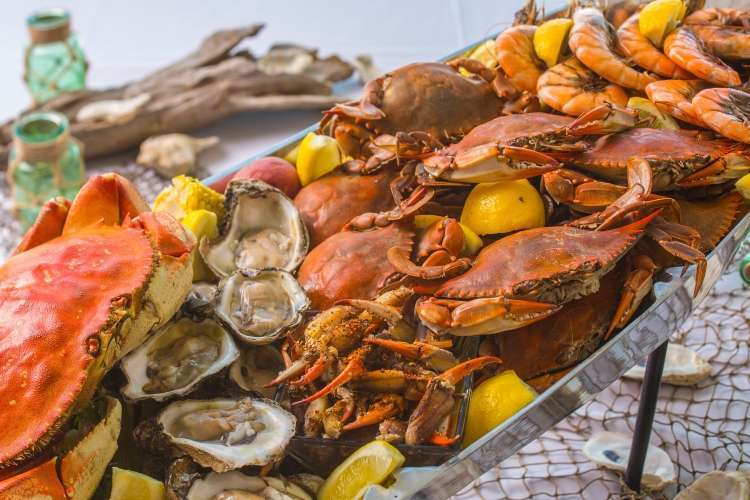 The beautiful thing about being a New Orleans wedding caterer is that we have an incredible variety of sustainable, delicious ingredients at our fingertips.  Everything from alligator to redfish, shrimp to grass-fed beef, and micro greens to organic produce can be found in the greater New Orleans area.  This gives us an impressive local pantry of often organic foods to choose from in our catering menu planning.
5.Minimize transportation needs.
Ride-sharing sources like Uber and Lyft offer special event rates that you can share with your guests and encourage them to use them from the airport to the hotel to the venue.  Challenge your guests to go green and use local bicycle or scooter rentals or rent hybrid vehicles and carpool with other who are there to celebrate with you.
6.Recycle attire and rent décor.
Perhaps at your mother's wedding the star of the show was her grandmother's wedding dress, lovingly preserved for two generations.  With the addition of new lace or beadwork, you can make your mother or grandmother's gown your own and still revel in its retro splendor and often superior craftsmanship. Or consider buying a vintage gown instead of a new one. For décor, considering renting from a local source instead of shipping items in.  Not only will you save money, you'll be making the reuse part of reduce, reuse and recycle a big part of your event.  Better yet, choose a spectacular event space that requires no embellishment.
7.Set up recycling stations.
Of course, anything disposable should also be compostable in a perfect world, like the bamboo dinnerware mentioned above. Even with that said, there will be items like wine bottles and the occasional plastic water bottle that needs to be tossed responsibly.  One idea to help avoid this is to make reusable water bottles available to all your guests and offer purified water stations where they can refill them.
8.Choose the right eco-friendly venue.
Few things are more beautiful than fresh air accompanied by a natural or city landscape.  Several event locations exclusive to Messina's Catering and Events offer indoor/outdoor seating as well as sustainable features.  Our venues like the Atrium at The Terminal, The Walnut Room, The Rooftop on Basin, and The Huey P. Long Room at The Terminal, offer spectacular views and are crafted of sustainable items like marble and hardwood floors in historic settings that are impeccable restored to their original grandeur.
9.Go flameless and use natural light.
Flameless candles now offer all the ambiance of their wax predecessors and can be reused again and again.  Likewise, floor-to-ceiling windows and French doors bring out outside in and bath an event room like the Atrium at The Terminal in natural, complimentary light.  With New Orleans' gentle climate, staying outdoors often provides not only a soft glowing light, but also natural breezes to the keep your guests comfortable without the need for air conditioning.
10.Make good use of leftovers.
Like any major city, New Orleans has residents who are food insecure.  You can help alleviate this by incorporating a food rescue plan in advance.  Find out which charities need what types of items in donations and whether or not they accept fresh foods.  For instance, Second Harvest will accept fruit and produce as well as donations of locally sourced food from area farms.  Giving Hope NOLA is another local charity that has served 538,604 meals from local donations to those in need since 2013.
Make your next eco-friendly event even more inviting by going green.
Both you and your guests will feel good knowing that your event will have a minimal impact on the environment while leaving a lasting impression.  At Messina Events and Catering, we can work with you or your event planner to make sure that even the finest details are eco-friendly.  We've got 58 years of experience as one of New Orleans' premier wedding caterers behind us to help you each and every step of the way so you can look forward to hosting a memorable green event.