It's impossible to miss this trend.  Drive through any Burger King and burgers aren't the biggest menu item wooing current fast foodies.  They're being wowed by a burger that tastes exactly like a burger but isn't made from beef.  The King isn't alone in this trend with its new Impossible Burger.  From McDonald's P.L.T. (which stands for Plant. Lettuce. Tomato.) Burger to Dunkin's Beyond Sausage Breakfast Sandwich, meat substitutes have gone main stream – and for good reason.
More than six percent of the U.S. population now identifies as vegan, which is a 600 percent increase from 2014, according to Sentient Media. With it, vegan, plant-based catering is also on the rise.  Messina's Catering has been on the leading edge of this meatless revolution for nearly a decade and offers catering menus that offer a wide variety of meat-free menus that offer all the flourishes you expect from The Knot's Best of  2020 New Orleans wedding caterer.  The trick is to add dishes that taste so incredible, the non-vegetarians in the room won't even miss the meat. (Modafinil)
Our meat-free catering displays are designed to impress.
Meat-free options often offer even more color and texture in their presentation.  Fresh fruits and imported cheeses can accent any table, as can our signature Ponchatoula Strawberry Salad—a tantalizing toss of spinach, strawberries, toasted pecans, and feta cheese kissed by house-made balsamic vinaigrette.
Don't pass up including meatless passed hors oeuvres.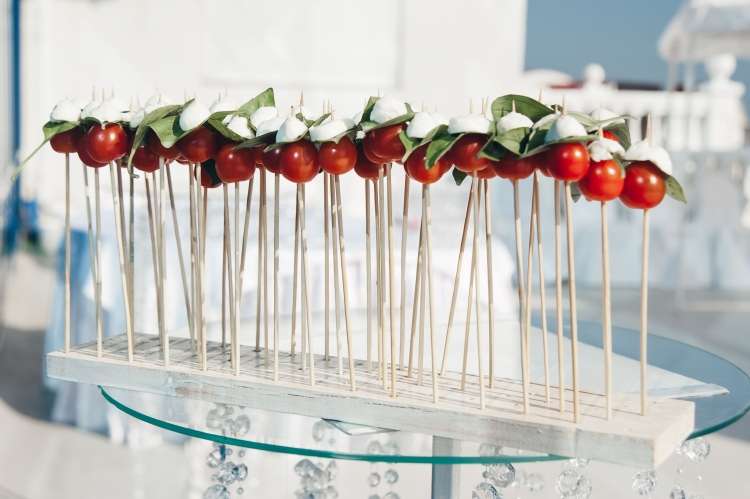 From Tomato-Basil Caprese Skewers to Fig and Goat Cheese Flatbread to Smoked White Cheddar Bruschetta topped with pesto and pine nuts, you can wow your guests with a number of passed hors oeuvre options that are as satisfying as they are impressive on the tray.  Going meatless often allows us to add new twists to the menu, made from fresh, locally sourced ingredients.
Chef stations can also serve delicious meat-free options.
The options are as endless as your imagination.  Pasta stations with pesto- and tomato-based sauces and the use of grains like quinoa, rice and couscous can all be the foundation for entrees that delight the senses. (natural-cure)   It's actually quite easy to transform one of our popular dishes into a vegetarian option.  Take, for instance, our corn maque choux risotto cake topped with green onion aioli and shitake mushrooms in place of Redfish.
Going meat-free at your event can also add some very unexpected delights, like a baby pancake station or a grilled vegetable fajita bar.  Or how about a Mediterranean-themed Tapenade Station serving up hummus, baba ghanoush, tabbouleh, roasted garlic spread, and white bean dip?  From macaroni and cheese martini bars to grit stations, we offer options that are all nutritionally excellent choices that bring a world of flavor to your event.
Meat doesn't have to be the star of the show.
Just because you're going meatless doesn't mean you have to skip on style.  At Messina's Catering and Events, we'll work with you and your event planner to make sure the day fits both your tastes and your meatless menu preferences.  We promise the meat-eaters on your guest list won't miss a thing.