The best wedding receptions can be as much fun as a night out on the town. Your closest friends and family, a beautiful venue, fantastic entertainment playing all your favorite songs, who wouldn't have a great time! But all that partying and dancing can work up an appetite. And even the most health-conscious of us love a decadent treat at the end of a fun night! Enter the late-night snacks. Just when the heels start to come off, and the dancing is going strong, bring out some trendsetting late night snacks to hit the spot!
Donuts
Everyone loves them, and there are so many fun and creative ways to serve them! Think bowls of different donut holes for grab and go ease. Or, a display of full-sized donuts for noshing.
Take it up a notch and serve mini lattes with bite-sized donuts.
Beignets
Add a NOLA touch to the idea of doughnuts by providing classic New Orleans beignets. Keep the powdered sugar mess to a minimum by making them bite-sized. Pair these warm pastries with a hot café au lait.
Bananas Foster
Imagine, your guests begin to smell the brown sugar, cinnamon, banana and butter sauce simmering. Then they are treated to a show when the chef pours rum and liqueur into the sauce and lights it on fire! (Simonsezit) Once the fire burns out, the sweet sauce is poured over vanilla ice cream, and you guests are delighted!
Asian Takeout
Guests will love a snack of some General Tso's Chicken, or LoMein. Amp up the creativity with mini Chinese takeout containers. Complement the offering with some bite size options like Crab Rangoon and Spring Rolls.
Milk and Cookies
Nothing says comfort like a chilled glass of milk paired with homemade chocolate chip cookies. It's nostalgic, it's simple, and it can be made beautiful with nice glassware and scrumptious looking cookies!
Pizza
What is portable, foldable, and loved by all? Pizza! Offer guests slices of their favorites including margarita, white pizza and pepperoni to satisfy the traditionalists.
Sliders and Milkshakes
Sandwiches of all varieties are the ultimate late night snack. From burgers to pulled pork, you can't go wrong. Add a level of sophistication by offering sliders, and pairing them with mini milkshakes!
Chicken and Waffles
Nothing says southern comfort like savory fried chicken over delicate sweet waffles. Though notoriously a bit messy, this dish can be made more "consumable" for a wedding by creating bite size pieces, or sliders. Look for creative drizzles, such as Messina's pecan sauce.
Ice Cream Sandwiches
On trend right now, ice cream sandwiches! Create a few flavor combinations based on yours and your hubby's preferences, or allow guests to create their own! The ingredients are simple, some delicious ice cream and decadent cookies!
Gourmet Fries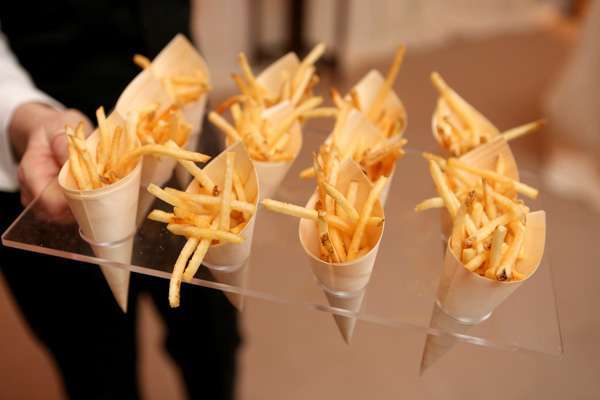 Fries can be the main event if done right! Serve French fries portioned into cups with gourmet dipping sauces. Or consider a trio of fries to include options such as sweet potato, waffle, and classic fry varieties to make the ultimate late night treat.
Cereal Bar
This is one of our favorites! You don't have to be a kid to enjoy cereal! Offer several cereal flavors (think Lucky Charms, Fruit Loops, Frosted Flakes, Cheerios, Rice Crispies, and others) and watch your guests eat it up, literally and figuratively! This will surely bring out the phones for Instagram photos. Use apothecary jars and vintage milk bottles to dress it up, but there's no doubt your guests will love this!
Tell a Story with your Late Night Snacks
The ideas listed here are wonderful, but your late night snack should tell a story! Choose a snack that is your favorite, or maybe something that represents your hometown, or maybe it's something you ate on a first date. A component like this can be a fun way to weave your love story into your wedding festivities.
Your wedding caterer should be able to provide examples of some of the late night snacks they have served at other weddings. Be sure to pay attention to presentation! Most of the most memorable late night snacks are simple, even nostalgic. Maintain a feeling of sophistication with creative, thoughtful displays and dishware. And don't leave out the bar! Want to keep the party going? Consider some coffee treats such as shots of espresso, or lattes to keep your guests on the dance floor.
Also, don't be afraid to be creative! At Messina's Catering & Events, we serve our bananas foster late night snacks on waffle bites. Any way to provide a unique twist on a favorite is always a hit!
Messina's Catering and Events has been catering weddings in the New Orleans and Kenner areas for more than 55 years. Many of our brides request late night snacks and we have an extensive library of ideas to share! Check out our recent article titled 9 Top Trends to Discuss with your Wedding Caterer.