Get your acceptance speech ready, because you've got the award for Best Award Viewing Party in the bag. November through February is the entertainment industry's awards season including the Emmys, Golden Globes, Grammys, Screen Actors Guild, and of course, the Oscars. (Alprazolam)  Messina's Catering and Events shares tips on hosting an absolutely fabulous, elegant catering award-winning viewing party.
Timing
Allow enough time before the show for guests to arrive – and we mean make an entrance. Following that would be the mingle portion of the evening where everyone can check each other out – who's the best dressed, who's with who, all while sipping champagne and noshing on hors d'oeuvres. so does dinner.  Work with your caterer to decide between heavy hors d'oeuvres or a full course dinner. Finally, after the show, wrap up with your own awards, post dinner drinks and coffee, and the ever-popular swag bag.
Elegant Catering Entrance
Roll out the red carpet. Literally. The entrance to your venue, whether at a special event venue, at home or off-site, must include a red carpet. Include a spotlight and paparazzi (this is where you bring in your kids or some of the catering staff) to blitz guests with photos upon entrance. Alternatively, have a stationed photo backdrop like the classic step and repeat (a white backdrop printed with a repeating logo or emblem), or go glam with sparkling gold garland.
After the party, give guests a copy of their photo as part of their swag bag.
Décor
Elegant Catering Hollywood glam all the way. Stick to classic color themes that match the award show which are usually monochromatic or two colors at most, like gold and black (gold is a must for the Oscars), red and black, or black and white. Incorporate mood lighting to match throughout the space. Encapsulate elegance with interesting ceiling décor like dramatic draping, individual lights to look like stars falling, florals, or chandeliers. Add in helium filled balloons and framed photos of celebrities throughout. Finally, floral centerpieces in your color theme add a beautiful touch.
Viewing the Show
Most of your event will be about the show. Utilize a projector and screen for the big picture experience. Set-up seating for maximum viewing pleasure. Go for a lounge chic look with couches, sectionals and sofa chairs with cozy throw pillows tossed on top. If you are serving a full course dinner, go for classic table rounds and seating. Ensure that the bar and food stations are easily accessible during the show.
Engage Your Guests
Awards shows can be lengthy, and Messina's recommends making it fun for your guests by having them complete their own voting slips. Before the show, have them vote for the main categories such as Best Film or Song, Best Male Artist or Actor, Best Picture, etc. During the show, let them get in on the fun aspects of the show by voting for categories like Best Dressed, Best Speech, Biggest Upset, etc. Make sure to toast "Cheers!" when a guest's favorite wins. Or, to also keep them engaged, have guests play an awards show Bingo, where guests mark off the appropriate square as spotted on the screen. The first to get five in a row is a winner. Of course, present each winner with their own gold statuette as a take home gift.
Food
Before the show, while guests are mingling, passed canapes and a station of domestic and imported cheeses garnished with crostini, water wafers, dried fruits and nuts are perfect. If serving heavy hors d'oeuvres during the show, ensure selections are filling like Messina's Beef Wellington Bites, Pecan Crusted Chicken, or Bacon Wrapped Scallops. For a seated dinner, select a catering menu with lots of rich items such as Messina's Prime Rib as a main course and our showstopping Flaming Crepe Suzette for dessert. Of course, no viewing party is complete without award show trophy-shaped cookies! Along with your guest's photo, these cookies create the perfect take-home swag bag.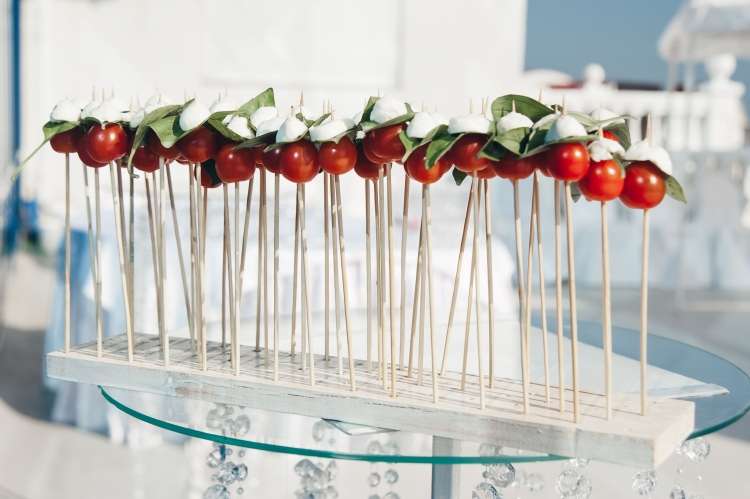 Bar
Champagne is a must. The sparkly should be flowing, especially as guests enter. Servers should be ready with champagne glasses in hand or have the bar already set with them. Rename your favorite cocktails with appropriate film style names such as "The Critic's Choice, "The Showstopper" or "Favorite Lead". Offer a sampling of the themed cocktails in mini-sized glasses or shooters. Finally, since we know awards shows notoriously run later, have a coffee bar ready in the evening. Glam in up with rock candy sugar stirrers and sophisticated take-home cups.
Before the music begins to usher us off, we wanted to remind you that Messina's Catering and Events can help you host your award-winning event in your home, off site or at one of our own gorgeous venues. We wish to thank our customers, community and the city for making Messina's a preferred caterer in the New Orleans area for over 58 years.  Messina's Catering & Events was recently named 2020 Best of Weddings by The Knot, and our venues the Rooftop on Basin and Messina's at the Terminal were awarded 2020 Best Venues by The Knot.