Most people love a great party or wedding, but unique and thoughtful touches can take an event to the next level. Want to make your guests feel like they just attended the wedding of the year? If you think carefully about events that stood out in your mind, and what made them memorable, you'll come up with ideas on how to plan out those special touches. That and our handy list of ideas below should do the trick!
Welcome Guests with a Gift
A great event is all about conveying hospitality, and what better way to welcome your guests than with a thoughtfully curated welcome bag! Choose bags that complement the theme, and stuff it with a mixture of necessities and luxuries. Think Aspirin (for the next morning's hangover), as well as sunscreen to protect them when they lay by the pool. Mix in some sweet treats like local chocolates as well as a local map of things to do. Welcome bags are best to be distributed by the hotel front desk as guests check in so that guests have them in advance.
Provide Pre-Event Refreshments
Nothing gets the party started more than some pre-event cocktails! The typical wedding ceremony lasting anywhere from 10 minutes to an hour or longer. Consider passing some beautiful signature cocktails (and mocktails) to quench guests' thirst before the ceremony starts. Chilled infused waters and teas are always appreciated, and craft lemonades are wonderful as well. But if you have a little wiggle room in your budget, consider a signature cocktail or some champagne to celebrate. Supplement the drinks with a very light snack, something like trail mix or pretzels to complement.
Provide the Comforts of Home
Whenever traveling, some guests may not pack properly for the weather. Sometimes the weather changes unexpectedly. Or, maybe they didn't realize the temperature drops in the evening, or that the event would be outdoors. Tie up some rolled blankets and/or pashminas for guests to drape over their shoulders to stave off the chills. For those guests that may not have realized the event was outside and forgot their sunglasses, have souvenir sunglasses made (they could have the bride and groom's name and date printed on them) and displayed for use. Is the ceremony on the sand, or an uneven surface, consider displaying a basket of flip flops for guests to change into for the time being.
Also consider how many photos guests will be taking of your event, provide a charging station so they can recharge their phones. And it never fails, at the end of the night, the heels come off because of blisters and bleeding. Artfully display some band-aids in the bathroom to help. (Ambien)
Thank them with a Note at Their Seat
It's a sweet touch to have guests arrive at their seat to find a small thank you card, to remind them how much you appreciate them coming. Consider acknowledging how far guests traveled and how much it means to have them be a part of the special day. Small and inexpensive, this can have a big effect! (simonsezit.com)
Incorporate Late Night Treats onto your Catering Menu
After a long night of dancing, nothing's better than a snack to keep the party going. Even the most health-conscious of us love a decadent treat at the end of a fun night. Just when the heels start to come off, and the dancing is in full swing, treat your guests! Check out our article on Late Night Snack Ideas to Discuss with your Wedding Caterer.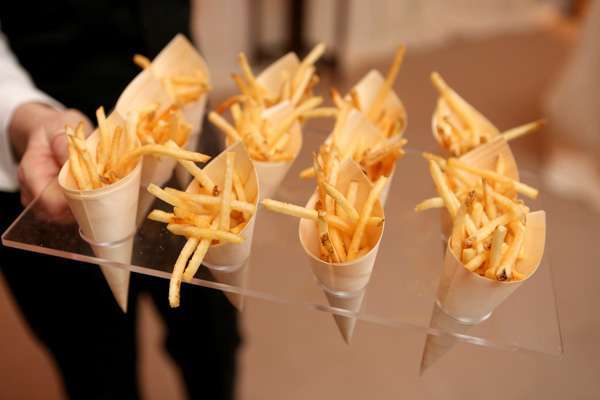 Send Them Home with a Treat
Make sure they have a reminder of the event the next day. Work with your wedding caterer to send them home with a treat such as macarons, or hand pies from a local bakery. Or prepare jars of local honey, boxes of a logo'd chocolates or tins of cookies. Maybe it's small jars of your Aunt Edna's famous huckleberry jelly! The more you can personalize and make your gift memorable the better! Your guests will literally eat them up! It's small touches like this that really make your event one to remember.
Messina's Catering and Events have been catering weddings in the New Orleans area for more than 55 years. We have a great deal of experience in helping brides create memorable experiences for their guests. We were just selected by New Orleans CityBusiness readers as Best Caterer for the 3rd year in a row. For more information, contact Stacey Messina at 504-569-7373 or at stacey@messinascatering.com.