The holidays are upon us.  And begins the season of decadent food, parties and family.  This time of the year is about reconnecting and showing gratitude for the people in our lives.  Throwing a party is a great way to do that!  Whether hosting your event in your home, at a venue, or in a restaurant, décor and ambiance choices really make or break your event.  Create a warm, chic holiday feel with some tips from Messina's Catering and Events.
Shades of Green
No surprise here, green is often associated with the holiday season.  From Christmas trees, wreaths and garlands…. (thedentalspa) green rules!  But what you may not have thought of is to layer shades of green. From deep forest green (normally associated with Christmas) to a bright chartreuse, layer your table and décor with various shades of green to add a dash of the unexpected.  Double down on real and faux greenery beyond just Christmas trees, wreaths and garland.  Think rosemary and even palmetto leaves or magnolia leaves for a southern touch.  Include curly branches, and cut greenery for an organic touch.  And don't forget the mistletoe!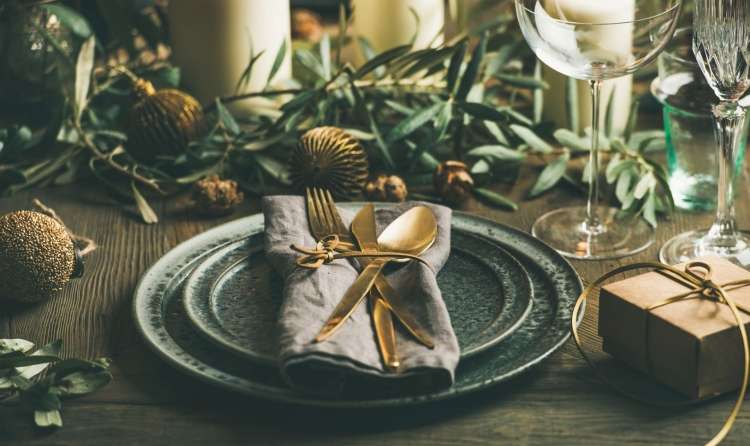 Shine On Holiday Catering

Gold and silver have always been a staple of traditional holiday décor.  But think beyond the traditional and look for shiny greens, blues and red metallics to add holiday sparkle to your catered event. (Xanax)  Incorporate pops of metallics on table décor, throw pillows and ornaments.  Add glamor with a posh mirrored bar.  And don't be afraid to mix metals.  Gold and silver together adds a timeless elegance.
Add Spice with Scents
Creating an inviting holiday feel is more than meets the eye.  Scents have the ability to transport people and gives them a sense of nostalgia.  Adding this additional sense really helps to complete the event experience.  Reinforce the smell of pine with candles or scented potpourri.  Or add spice to your event with cinnamon sticks and mulled cider.  Want to wet guests' appetites?  Incorporate the smell of homemade baking.
Keep it Cozy
The holidays evoke a feeling of cozy contentment and warmth.  Create this with subtle woodsy accents, faux fur seating, velvet textiles and a warm color palette.  Create a glowing cozy atmosphere using amber light, string lights and lots of candles.  For a grand touch, create a large grouping of candles (15 or more) of varying heights, massed together.  Accent areas like the bar with string lights to create a cozy sense of space for the bar.  For events that have an outdoor component, utilize fire pits and have cozy faux fur and chunky knit blankets nearby to snuggle up with.  Complete the experience with a gourmet hot cocoa bar.
Make it Memorable
Oftentimes one holiday party can feel like another with something unique and memorable.  Add an interactive element to your party by allowing guests to make their own ornaments to take home with them.  Provide plenty of raffia, cane, printed cotton fabrics and other assorted items.  Create a few to use as creative inspiration.
Conclusions
By adding some chic and cozy design trends, and adding some personalized/memorable touches, you can create a joyful and unique holiday party experience for your guests!  Whether you hire an event catering company to host your event in your home (like Messina's), or have your party at an event space (like the Rooftop on Basin), or go it yourself at home, the holidays are about being together and being thankful.  Best wishes to you and yours from the Messina's family.
Messina's has been catering everything from holiday parties and weddings to social galas and corporate events in New Orleans for more than 58 years.  We have a great deal of experience I helping event planners create memorable experiences for their guests.  We are proud to have been chosen by New Orleans CityBusiness readers as Best Caterer for the 3rd year in a row.