Breakfast catering doesn't have to be so predictable. Forget mini muffins, Danishes, bagel bars, and yogurt cups. Today's catered breakfast event should be full of color, imagination, unique flavor combinations and ingredients not typically spotted at the breakfast table. At Messina's Catering & Events, we adhere to the core principles of catering—surprise, delight, satisfy, and make it easy to eat—when catering a breakfast affair.
It All Begins with Coffee
You can offer your guests the best food in the world, but if the coffee is subpar or the accouterments on the coffee bar are inadequate, it can spoil the flavor of the whole event. Make sure your coffee bar is a standout and has it all—decaf, caffeinated, pour-overs, cold brew, nitro coffee, and many different dairy and nut-based creamers. Better yet, put some baristas into the catering staff mix who can serve up elaborately prepared lattes and espressos and serve them with the flourish your guests will long remember.
Cut the Carbs
Back to that overabundance of carbs in the form of mini and jumbo muffins, bagels, and Danishes. Not only are they not healthy for people with heart disease, diabetes, or celiac disease, but many want healthier (not to mention more unique) options. Think gourmet and colorful quiches, smoked salmon, fresh cheeses, and various nut butters. There's no rule that charcuterie boards are just for dinner, do up a beautiful breakfast or brunch charcuterie board
At Messina's, we often include gluten-free catering menu items as well as items high in protein, like granola or oatmeal stations with lots of nuts, fresh fruits, yogurts, and whipped cream.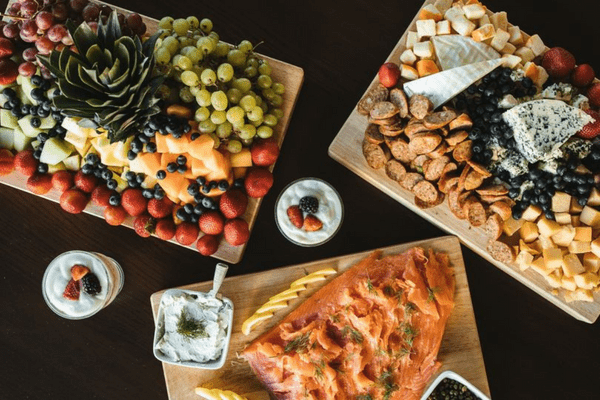 Fuse Traditional Dinner Ingredients with Morning Favorites
Think pork belly, English peas, and brussels sprouts with poached eggs. Or how about grilled asparagus and poached egg with watercress, pancetta, and shaved Manchego, topped with lemon Dijon vinaigrette on a toasted slice of rye or whole grain bread? Steak has always paired well with eggs, but so can brisket, pork tenderloin, and vegetables such as roasted corn or rainbow chard.
Think Beyond Bacon and Eggs
Smoothies and grain bowls are popping up on breakfast catering menus more and more. Ever since Bon Appetit suggested serving grain bowls for breakfast, the trend has continued to grow. Combinations like farro, toasted walnuts, sliced peaches, and raw sugar or barley with sauteed mushrooms, plain yogurt, and fresh thyme offer an explosion of flavors and health benefits as well.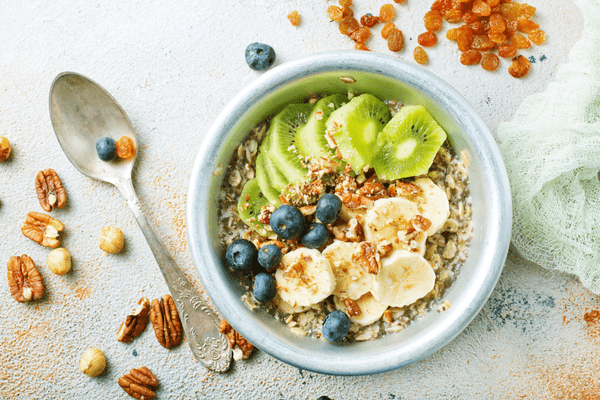 Smoothies are anything but mainstream these days. They're often made with plant-based milk alternatives and filled with superfoods like acai and coconut. As pretty to look at as satisfying to consume, a smoothie is easy to serve, easy to hold, and appealing to just about everyone on the guest list—even the little ones. Combinations like acai, blueberries, almond butter, coconut, whey protein, agave, almond milk or apple juice, blueberry juice, vanilla yogurt, and turbinado sugar taste way more indulgent than their calorie count would indicate.
Go Global
A long-time favorite on lunch and dinner menus, Middle Eastern dishes are now making their way to the breakfast catering menu. Foods like falafel and shawarma can easily translate into breakfast dishes with eggs, bacon, and sausage. Dishes like Makhlma, a beef and vegetable stew with eggs, pair well with a cup of cold brew. Another dish gaining traction is shakshouka, which is poached eggs served in a tomato sauce. Of course, hummus is an easy choice any time of the day and pairs well with the dishes mentioned above.
Breakfast tacos are always a hit, filled with spicy chorizo, avocado, adobo chicken, queso fresco, and scrambled eggs. Breakfast wraps and burritos are another take on this popular breakfast offering. Or you can add a Puerto Rican flair to your event by serving chorizo Manchego empanadas and arancini, rice balls filled with cheese, herbs, and spices.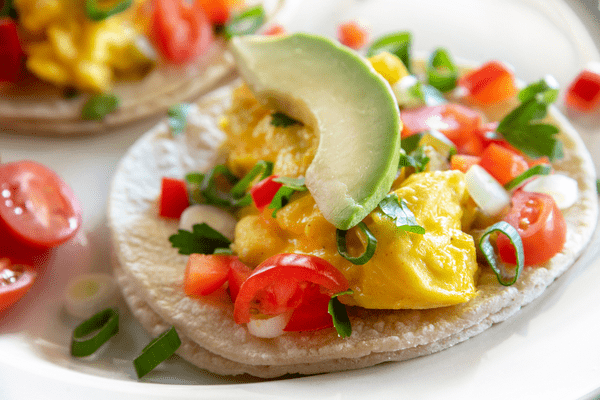 Artisanal Doughnuts Are All the Rage
It all started with the cronut, a decadently delightful mash-up of a doughnut and a croissant. But that's just the beginning. Now, you might find cretzels and cruffins also on the catering menu. Cronuts (croissant-pretzels) and cruffins (croissant-muffins) can offer both savory and sweet flavors and are perfect for mid-morning catered events. Plus, because they're handheld and grab-and-go menu items, they're perfect for an event where guests mostly stand, mix, and mingle.
Breakfast Anyone?
At Messina's Catering & Events, we can help you plan the perfect breakfast catering menu, whether in your home or at a special event venue. We can help you consider any dietary restrictions you need to accommodate or any breakfast favorites you wish to include. Visit MessinasCatering.com to learn more.