Bigger isn't always better! Many couples are choosing to wed in small, intimate celebrations, known as micro weddings. The definition of a micro wedding can vary depending on who you talk to, but it typically includes anywhere from 5 to 50 guests. These types of weddings tend to fall somewhere in between eloping and a traditional wedding. Typically, they are shorter in duration and simpler in format than a typical wedding. (rentalry.com) They offer couples the ability to keep some of the traditional aspects of a wedding while providing a more intimate experience.
What this can Mean for your Catering and Event Budget
For those looking to stay with a smaller wedding budget, micro weddings can be a great fit! According to The Knot, the national average cost of a wedding is a staggering $33,391. The average cost per guest has reached an all-time high of $268. Therefore, the size of the guest list has a huge effect on the overall wedding budget! Especially when a wedding caterer is usually one of the larger portions of the budget. But, beyond that, fewer people you invite, the less physical space, party rentals, invitations and favors you'll need….in addition to the savings on the catering menu.
Also, some couples that choose a micro wedding also opt to get married on a weekday in order to further save on their budget. Tying the knot on a weekday is oftentimes easier to coordinate with a guest list consisting of only your closest friends and family.
Luxury Feel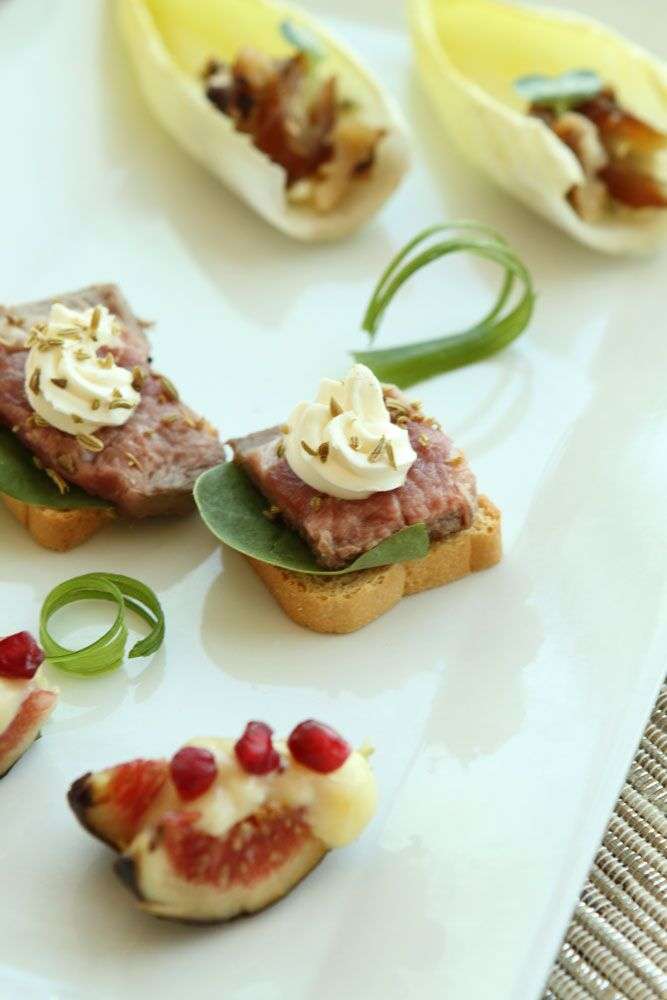 For some couples, saving money isn't the reason for choosing a micro wedding. Cutting back the guest list can also free up funds for a more luxurious wedding. Some couples spend a thousand dollars ahead to throw their dream wedding with gourmet food and wine, a spectacular destination, expensive décor or the bride's dream gown. Having a more intimate wedding allows room for the couple to add more custom touches to their wedding.
Quality over Quantity
Many couples are opting for micro-weddings because they want to be able to really spend quality time with those that are key in their lives. A much smaller affair allows for more intimacy between the couple and their guests. Think about it, is it really important to you to invite your dad's boss or your third cousin and her four kids to your wedding?
A small guest list also means it's more feasible for the bride and groom to invite all of their guests to more than just the wedding. Guests can be included in rehearsal dinners, wedding photos, post-wedding brunches, and even night before bachelor/bachelorette parties.
Rise in Destination Weddings
Micro-weddings lend themselves well to destination weddings. Many couples create multi-day events, versus a ceremony and reception only. Destination weddings also make it easier for couples to preen down the guest list as they are not obligated to invite local guests.
More Options Available
A smaller wedding allows for more flexibility and creativity. Couples could choose to reserve a private room at their favorite top-notch restaurant, fit everyone into their backyard, or bring their guests up to a mountain for a scenic ceremony and picnic lunch. Couples opting for a micro-wedding often have many non-conventional options available such as bed and breakfasts, courtyards/gardens, rooftop terraces, beaches, and parks.
Is a Micro-Wedding for Me?
A micro-wedding is not for every couple. Those with very large families and large groups of friends oftentimes feel obligated to a more traditional large wedding. Ask yourself how many friends and family you would have on your ideal guest list (without external pressure)? Ask yourself if you are stressing over your first dance in front of 250 sets of eyes? Answers to these questions can help you determine if a micro wedding is right for you.
And find vendors that have experience in hosting micro-weddings such as a wedding caterer and event planners.