Food is not just about eating; it's about discovering and exploring. And there is a great deal of emotions surrounding food! This plays an important role in catering and events because the more guests connect over the food and beverage, the more they are engaged and connected to the event. The more engaged they are, the more memorable the event is to them and the more likely they are to share their experience digitally. Here's what we will be Instagramming this year!
Zero Waste
This was a big topic in 2018, and it's carrying through to 2019. According to the James Beard Foundation, Americans waste nearly 40% of all the food produced in this country, while one in six families don't know where their next meal might come from. Sustainability and preservation are top of mind for consumers when they evaluate a catering menu. The practice of using everything and wasting nothing is becoming more ingrained into our culture.
Techniques such as fermentation, micro-farming, edible garnishes, on-site beehives, composting and use of offal cuts are becoming more mainstream. The movement called "Root-to-stem-cooking" is a big trend. Anthony Bourdain even did a documentary on the topic of food waste! Helping the cause, people have become more accepting of produce that may be visually imperfect, as they know they are just as delicious and nutritious as their counterparts with perfect shape, color, and size.
Bread is Back!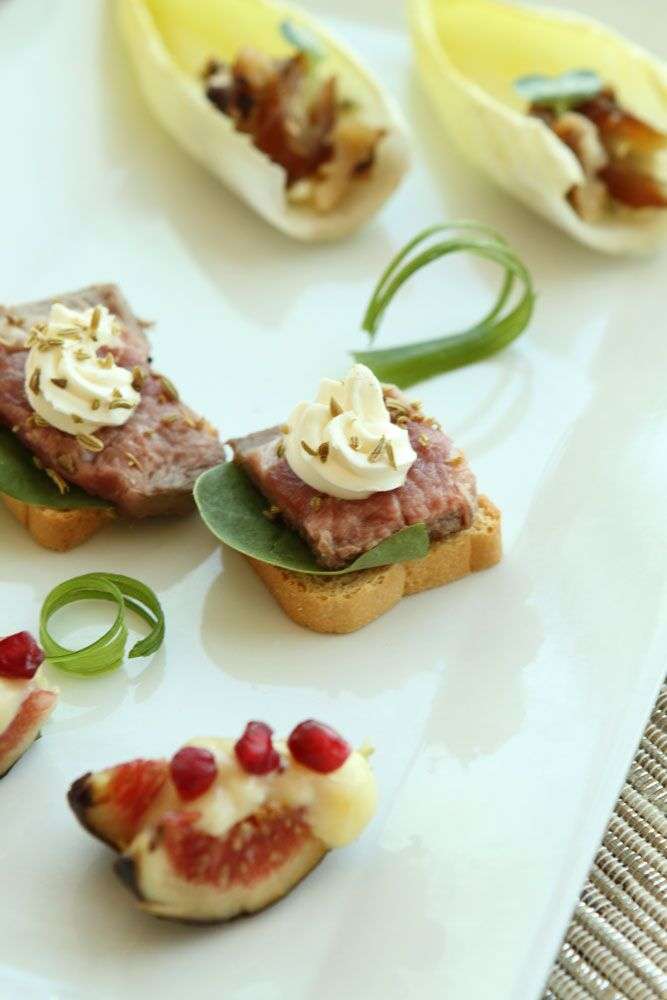 After weathering the reign of Atkins, and then the keto diet, bread is finally making a comeback! But we're not talking about your basic run of the mill bread. Consumers want premium breads, which are differentiated by long fermentation, ancient grains, sprouted grains, and artisanal preparations. Most people are starting to understand that avoiding gluten or carbohydrates is not a one-size fits all diet.
Plant Based Catering Menus
Being vegan is no longer considered to be a joke, nor as difficult to sustain. As people are more educated and health conscience, tasty animal-friendly food options are more accessible.
And vegetables are no longer just relegated to side dishes, there are some incredibly creative and satisfying recipes that are veggie-centric. Catering and event clients are choosing more plant-based menus and food stations like vegan cheese and crostini bars, vegan fried chicken/burgers, plant-based poke bars, ramen with plant-based broth, jackfruit tacos/burgers/burritos and marinated grilled vegetables.
Kitchen Parties and Food Stations
Event guests want an elevated entertainment experience. Interactive and customizable opportunities that allow them to discover and explore new cultural and culinary traditions are very popular. (Tramadol) Think specialized interactive experiences such as sushi rolling classes, Japanese whiskey tastings, and chefs plating tableside in front of guests. Guests love the experience, and walk away with a new skill that they are usually very excited to share with their friends digitally!
Dessert Charcuterie
There is no denying that charcuterie plates are great for parties and events! They offer a variety of options and have something for everyone. Enter dessert charcuterie, desserts served arranged beautifully on a plate in tasting portions. A typical dessert course tends to be a single option, a dessert charcuterie spread allows guests to discover and explore new bite-sized tastes and textures! Experiment with gourmet fudges, fruits, nuts, pastries, spreads, cookies, chocolate dipped anything, even popcorn!
Closing
Bottom line, we all still eat first with our eyes. Presentation is still king. However, the spotlight is now being shared with more mindful menus. Customers are interested in experimenting with new flavors and trends, that are easy on the planet. With each passing year, we see foodies becoming more health-conscious and adventurous. This is a trend we can get behind! And we are incorporating those trends and others into our catering menus. This and other trends related to event layouts and formats are what we're seeing in 2019!