It's pumpkin spice season.  Soon to follow, gingerbread season.  Sweater-weather brings with it the desire for food and drinks that make the oncoming holiday season extra special.  After all, the holiday season is a time for celebration!  And celebration means great food and drinks!
No one is questioning the importance of ham, roast turkey, oyster dressing and pecan pie.  Christmas certainly wouldn't be Christmas without them.  But think beyond the expected to give catering guests something unique to enjoy.
Meat Free
The vegetarian/vegan diet continues to be popular.  It's no longer reserved for 30-somethings and hipsters.  More and more people call themselves vegetarian or vegan, and many more have cut down on meat and have one or two meat-free meals a week.  Even for those not practicing a vegan lifestyle, tasty meat and cheese replacements can oftentimes find their way onto plates of health-conscious consumers.  It's important to come up with creative vegetarian catering menu options.  Utilizing fresh veggies is also a great way to add splashes of holiday color in your menus!  Consider the fresh red and green of a tomato basil caprese skewer, or the holiday comfort of a fig and goat cheese flatbread. (lowpricebud)   Looking for vegan options?  Look no further than a creamy roasted butternut squash soup, mushroom wellington or penne with roasted asparagus and balsamic.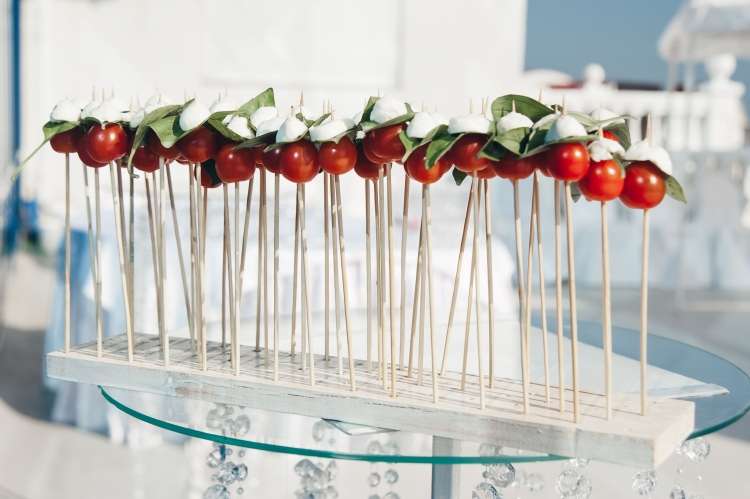 Comfort
Timeless dishes that install people with a sense of togetherness and comfort are big this time a year.  Think warm, winter comfort foods.  Timeless classics delight guests like mac n cheese, but don't hesitate to experiment with unique alternatives such as truffle mac n cheese cups, or a mac n cheese bar.  Bread is the original comfort food.  Make sure bread is served as though it came straight from the oven, perfectly warm and served with gourmet butters.
Fermented Foods
Fermentation is the process is used to produce food and beverages like cheese, preserved vegetables, yogurt, beer and wine.  It is often touted for its health benefits, particular in relation to gut health.  Include this trend in the form of pickled vegetables and cabbage.  Add to your catering menu some sauerkraut, fermented carrots or cranberry cinnamon kombucha.
Cheese Feast
Cheese is a guaranteed winner with all.  The traditional cheese board has made a huge comeback.  A catering menu that will get guests talking will have a cheeseboard to remember, enhanced with a thoughtful selection of pickles and chutneys.  Or consider a cheese course, or cheese fondue.  Nothing says winter like melty, warm cheese.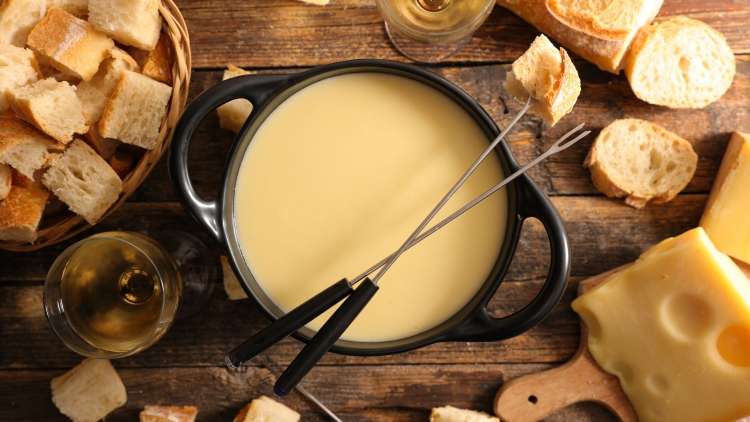 Bitter Flavors
We've seen bitter cocktails like Aperol Spritz and Negorinis gaining in popularity, the bitter trend is on the rise.  This can relate to food as well.  Think black coffee, dark chocolate, char-grilled meats and craft beers.  For greens, consider kale and arugula.
Hidden Veggies
With high fat, low carb diets gaining in popularity, many people are keen on increasing their intake of vegetables.  Include hidden veggie dishes such as cauliflower pizza bases, mashed cauliflower, or zucchini bread on your catering menu.
Holiday Catering Bar Flavors
Don't forget the bar!  From hot drinks to warm up the festivities to cold libations with an autumn/winter flare, be sure your cocktail menu brings the same level of warmth and celebration as the rest of your menu.  Consider creative fall and winter cocktails such as cider punch, pumpkin spice white Russians, mulled wine and hot buttered rum.  For a nostalgic feel, include a hot chocolate bar with all the toppings like whipped cream, marshmallows, cinnamon, pepper and cocoa bits.  Add the option to add some spirts.
Conclusion
Catering menus should be varied and include a range of festive favorites, sprinkled in with some on-trend additions.  Keep in mind, trends come and go, but the importance of good food remains the same.  A thoughtfully prepared dish exudes a sense of authenticity and purposefulness.
Messina's Catering and Events has been catering holiday parties and the likes in the New Orleans area for more than 58 years.  We cater events in a variety of venues, as well as in client's homes.  Reach out to find out how we can help create a holiday menu for your in-home or office catering to celebrate the season!