New Orleans has always been a crossroads of cultural diversity.  With strong influences from French colonialists as well as Cajun, Creole, Caribbean, French, African, and Spanish settlers, the foods that have made the city famous are equally diverse and a melting pot of flavor.  Nearly 100 years ago, Mark Twain wrote "New Orleans food is as delicious as the less criminal forms of sin," and visitors here today couldn't agree more.  It is sinfully delicious.
That's why you should make sure you're weaving these flavors and local ingredients into your catering menu for an authentic 'Nawlins event—right down to the gumbo.   To leave out dishes like crawfish etouffee, muffalettas, or BBQ shrimp would not only be missed opportunities, it would leave your guests questioning where the New Orleans is in your New Orleans catering menu.
Whether it's full-service catering for a wedding for 200 or a corporate event for select shareholders, serving traditional New Orleans fare brings any event full circle.  Here's what you should know about some of the Crescent City's most famous dishes:
There is no BBQ sauce in BBQ shrimp and nothing poor about a Po-Boy.
BBQ shrimp gets its from generous amounts of freshly ground pepper and other Creole spices and shrimp bathed in melted butter.  This differs from the traditional American BBQ sauce made with vinegar, tomato paste and/or molasses.  And, when it comes to Po-Boys, there is nothing poor about the flavor.  Instead, they are spicy sandwiches made from fresh-baked French bread that envelopes catfish, soft-shell crab, fried shrimp, oysters, or beef with toppings such as hots sauce, pickles, mayo, lettuce and tomato.  Legend has it that the Po-Boy was named during the 1929 streetcar picket strike when the Martin Brothers Restaurant created them to serve to the 1,800 people manning the picket lines.  Just like the city itself, many of New Orleans most iconic dishes have an equally tantalizing history behind them.
New Orleans is as well known for its sweet as it is its spicy feasts.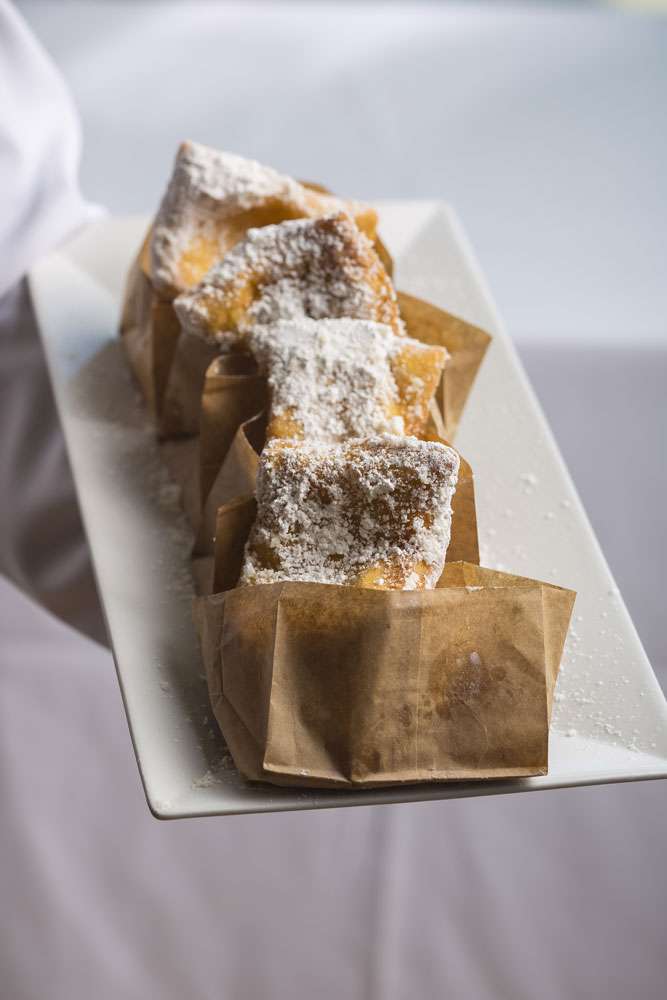 With pecans contributing an average $12 million to the state's economy each year, it's no surprise that they are a signature ingredient in many New Orleans desserts.  New Orleans pralines are a perfect example.  These candied, melt-in-your-mouth treats sweeten any event and come in many shapes, sizes, and flavors.  The traditional base is simple—sugar, milk, butter, vanilla, and pecans.  For many, their perfection lies in their simplicity.
Then there are the beignets—the deep-fried cousin of the donut.  First introduced by French-Creole settlers in the 1700s, beignets are best served hot and sprinkled with copious amounts of powdered sugar.  They make a perfect passed treat on your New Orleans catering menu that can be served with a hearty café au lait.
Then there's Bananas Foster, named after a friend of restauranteur Owen Brennon's, named Richard Foster, who was a local business leader in the 1950s.  At this time, many of the bananas being shipped to the U.S. from Central and South America were arriving through New Orleans ports.  Brennan challenged chef Paul Blange to create a dish honoring this new economic driver to the local economy. Thus, Bananas Foster was born.  It's a decadent dish where butter and sugar-sautéed bananas are then soaked in rum and set aflame, and then typically served over vanilla ice cream.
Seafood is the star of many New Orleans favorites.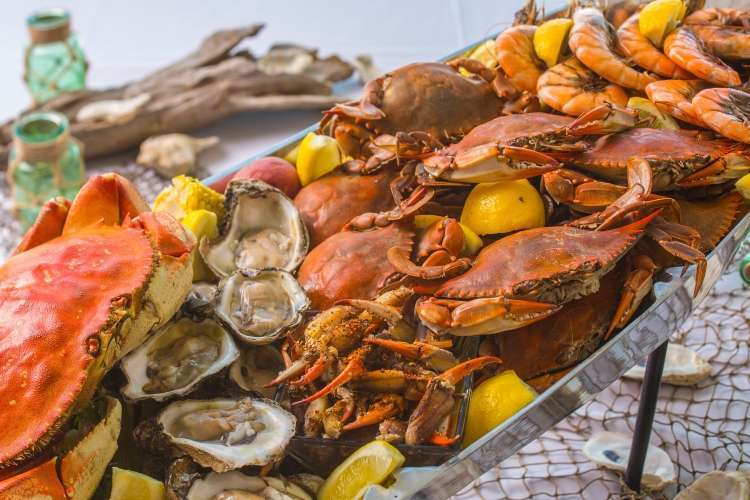 With the teeming Gulf waters at their doorstep, New Orleans caterers have a treasure trove of locally sourced, fresh seafood to choose from when crafting their dishes.  Caterers like Messina's Catering have been showcasing fresh seafood in their catering menus for nearly 60 years.  They are famous for dishes such as turtle soup, corn and crab bisque, seafood gumbo with rice, crab cakes with creole remoulade sauce, chipotle-glazed shrimp, oyster brochette, and blackened redfish to name a few. (Tramadol)   They are also known for their oyster raw bars, where shuckers serve up fresh oysters on the half shell upon request, and ceviche bars with lime-cured seafood cocktails served in martini glasses.  You can see (and will taste) how such dishes can become the life of any party.
When hosting your next event in New Orleans, don't forget to invite the flavors that made the city one of America's top culinary destinations.  Caterers like Messina's Catering can take your next Big Easy event one for the history books and the taste buds.